How to Create Tier 1 Backlinks with GSA SER – 4 Easy Steps
What you need to build Tier 1 backlinks with GSA Search Engine Ranker
There has been much discussion about building Tier 1 backlinks with GSA SER and the most appropriate tiers for GSA Search Engine Ranker. Although some suggest it's best for Tier 2 and Tier 3 backlinking, it is possible to create Tier 1 backlinks with ease. In this post, we'll show you how to create a top-tier GSA SER campaign for posting Tier 1 or money site backlinks.
If you're new to GSA SER software, it's recommended to start with Tier 2 and Tier 3 backlinking until you feel more comfortable with the tool. However, if you're looking to create a top-tier campaign, we're here to guide you.
This post focuses on automating Tier 1 GSA SER projects to create high-quality backlinks that appear natural to search engines, such as Google. Please keep in mind that quality is emphasized over quantity. You may not reach a higher LPM or VPM, but by following these steps, you will be able to produce a set of high-quality backlinks using GSA Search Engine Ranker.
Quality Content
The quality of content is a critical aspect when it comes to Tier 1 link building. Without high-quality content, it is impossible to run successful Tier 1/Money Site link building campaigns.
While there are many tools available for generating and spinning content, it's important to use premier and unique content for Tier 1 campaigns. Software-generated content may not seem as genuine as content written by humans, which is why it's crucial to use high-quality and error-free content with a strong flow. Low-quality links submitted may not be approved by websites/webmasters due to strict firewalls , Honeypots and admin approvals, which can negatively impact your VPM/LPM metrics.
If you have limited human-made content, you can consider using a content spinner / Content generator like SCM/ChatGPT to create multiple posts. However, it's recommended to review the spun content before submission.
Tip: Use a balance of generic anchor text (40%) and targeted anchor text (60%) for optimal results. To help ensure the quality of your content, you can add a list of undesirable words to your GSA SER filter.
You can find a list of bad words here that you can add to your GSA SER to filter out. We hope it would be helpful for you.
Login to members area to download[/wlm_nonmember]
Captcha Solvers
The most recommended captcha solver for GSA SER is, GSA Captcha Breaker. Using Captcha breaker will bring you a decent amount of results but, if you are targeting sites that contain captchas that are hard to solve, you will have to use an advanced captcha solver such as XEvil or a human-based captcha solving service such as 2captcha to come across captchas that are harder to solve.
In addition, it's also recommended to use a backup captcha service like 2captcha when working on Tier 1 GSA SER projects. This can be achieved by utilizing two captcha solvers simultaneously with GSA Search Engine Ranker.
Tier 1 Safe GSA SER

Verified Lists

Choosing a quality site list can be a tough task because it is essential to use high-quality targets that are not spammed to successfully build Tier 1 targets. 'How to choose a quality site list for Tier 1 campaigns?' is the most popular question that most GSA SER users ask.

At SER Verified Lists, we provide verified targets that are specifically scraped and filtered for GSA SER Tier 1 link building. We have a special category that contains verified targets that contain higher MOZ PA DA values and lower OBL values. To be specific, We especially filter links that have 15+ MOZ Page Authority and 15+ Domain Authority. Also, these links have an OBL (out bound links)value below 70, which makes them the most suitable lists for GSA Search Engine Ranker Tier 1 campaigns.
Use High Quality Clean Proxies (Private Proxies or Residential Proxies )
Using residential proxies will help your campaigns to have a higher success rate. But you need to keep in mind that it may get you a lower LPM or VPM rate because it will be a quality based campaign over the quantity. Adding general private proxies from data centers is also fine. But it's best to use resential proxies for better VPM rate. If you are using private proxies Make sure to mix up proxies from different subnets to make your campaign look more natural.
How to Set up Tier 1 GSA SER Campaigns
You have to bare in mind that you are posting on high-quality websites. Make sure that your campaign doesn't have any errors or mistakes because if you make any mistakes, it might bring negative effects on your website.
Once you prepare everything we have mentioned above, you can create a Tier 1 campaign with GSA Search Engine Ranker.
Import verified lists to the project
Select 'Option' – Select 'Advanced' – Direct the 'LOW OBL – PA-DA [Realtime]' folder to any section (Ex – 'Verified')– OK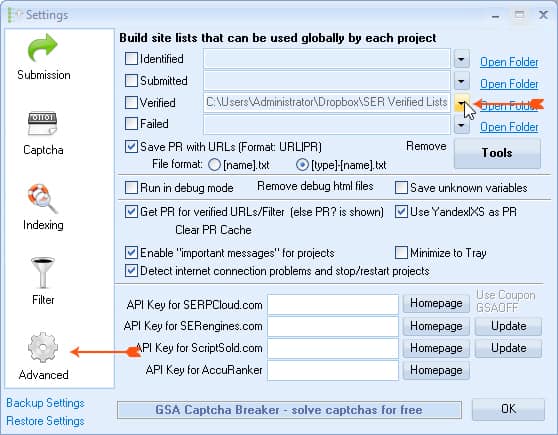 Double Click the Project/Select the Project and click 'Edit' – Select 'Options' – Check 'Use URLs from global site lists if enabled' – Check the directed folder (Ex – 'Verified') – OK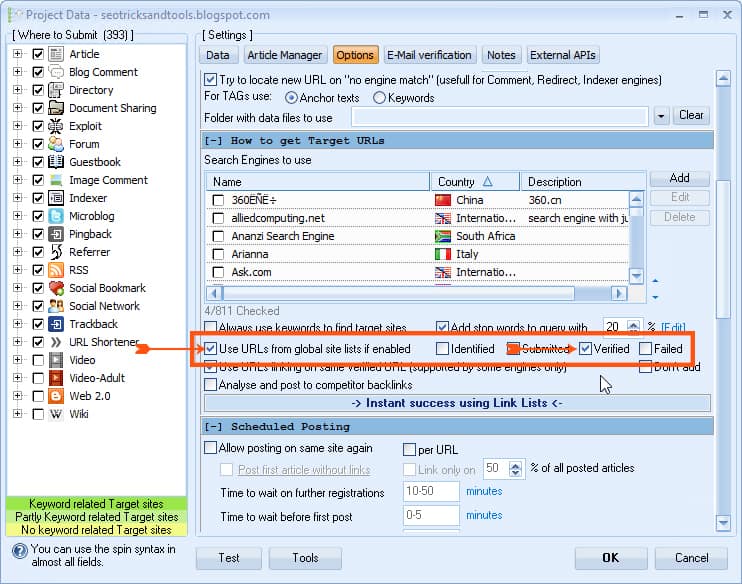 Do not add any search Engines to use to get Target URLs
Right Click 'Search Engines to use' section – Click 'Check None'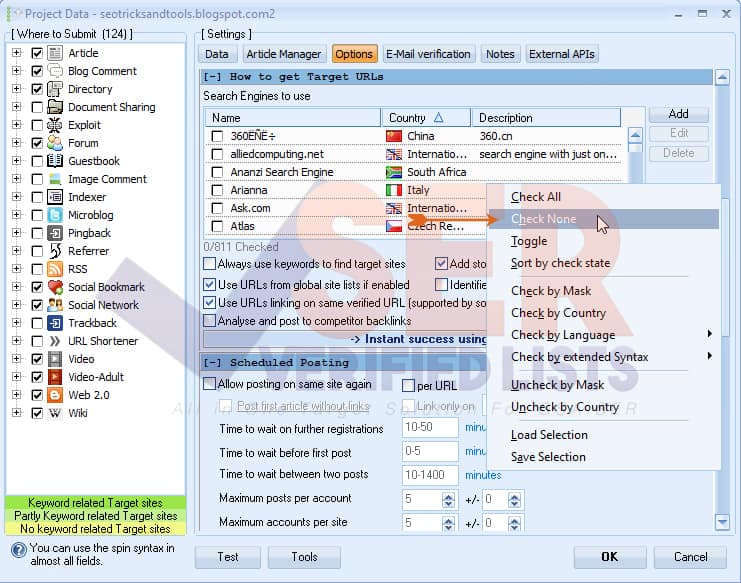 Select Contextuals and Do Follows
Right Click 'where to submit' section – Click 'Check All' – 'Click Uncheck Engines that use no contextual links'  – Click 'Allow All'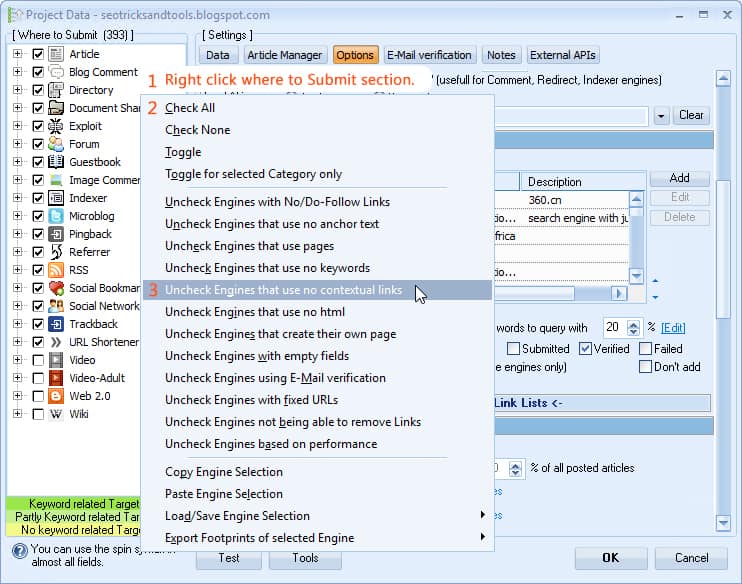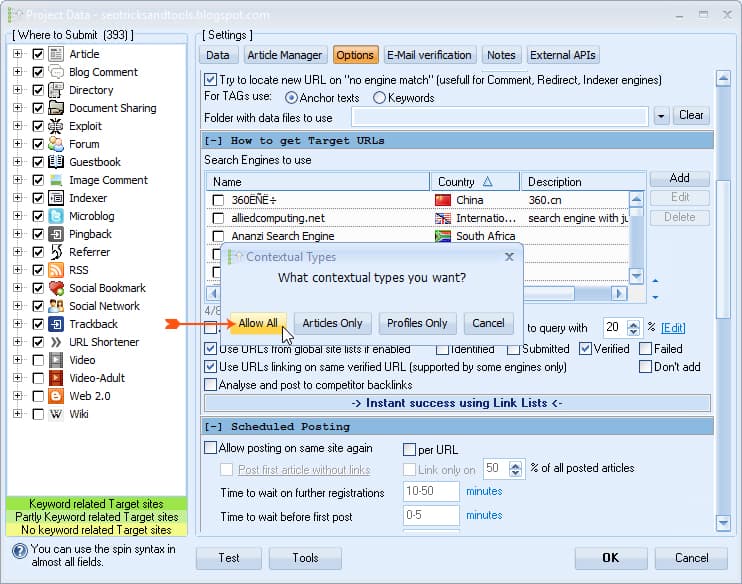 Conclusion
As you have seen it, GSA Search Engine Ranker has provided all the essential features and settings to allow you to create a Tier 1 backlink. It is up to you to ensure that you provide quality content, quality targets, quality proxies, emails, and a powerful captcha solver to create Tier 1 GSA SER campaigns successfully.
Once you successfully create some Tier 1 websites, you can create some Tier 2 and Tier 3 backlinks to get the most out of the Tier 1 backlinks you have created.
However, If you are a new to SEO and GSA SER ,creating money site backlinks with GSA SER has still not been recommended by GSA SER experts. In that case we suggest you to experiment with buffer sites or para sites (Web2.0s)
Wish you luck with your projects!